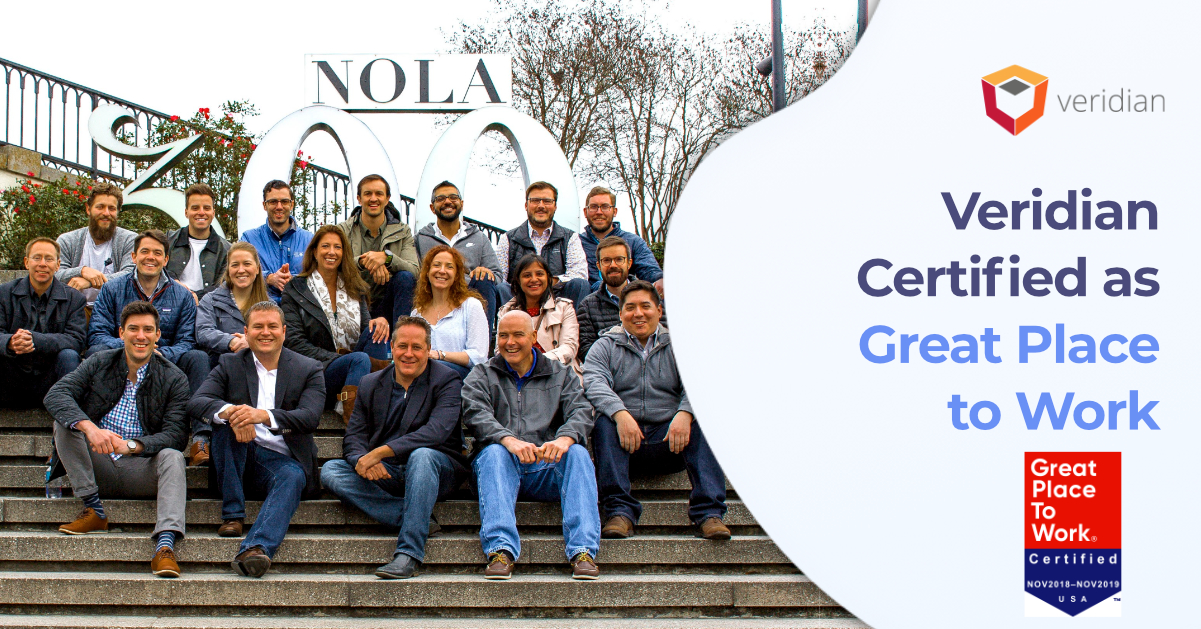 Veridian Certified as Great Place to Work
The media is filled with reports of poor employee
satisfaction and companies struggling to create a culture of collaboration, but
Veridian has worked tirelessly to avoid these issues. Veridian recently gained
the recognition of one of the largest consulting firms in the country, Great
Place to Work®, for its commitment to high-quality work environments and
employee satisfaction. Let's take a look at what this means for the company and
how employees were involved.
What Is the Survey?
Great Place to Work® conducted a survey by having employees
submit responses anonymously. Getting anonymous answers ensures responses are
accurate and reflect actual work conditions. Survey results are tabulated based
on generation, age, and perception of key company activities. These include
ease of approachability among managers, resolution for issues or questions,
hiring processes, as well as the integration of new employees within the
existing workforce, and trust of managers.
What Do the Results Mean for Veridian?
Great Place to Work® recently surveyed the employees at
Veridian to find out how employees viewed their workplace, and the results
allude to a healthy, bright future for the company. It is not an easy task to
attain this certification. Businesses must get at least 75 percent positive
results, and 100 percent of Veridian employees participating in the survey
reported excellent conditions to the employee-satisfaction consultant, Great Place
to Work®. This means Veridian possesses a culture of collaboration
and a robust management-employee rapport.
According to Sandeep Patel, Co-Founder & Managing
Partner at Veridian, "the scores highlight the team-based environment at
Veridian. Everyone commits time, energy, and resources to make Veridian a great
place to work, and I'm most proud of the community we have built. We trust in
and work closely together, and that is part of what makes this award so
remarkable."
Armed with the results of the survey, Jason Rosing, Co-Founder
& Managing Partner of Veridian, went on to further explain,
"These results show we are moving in the right direction. Veridian's
core businessis about making warehouse operations more effective for Warehouse
Managers and supply chain leaders and collaboration between team mebers in the
company is crucial to Veridian's ability to provide efficiency for our clients.
By ensuring we have a fully integrated team, willing to share and voice ideas
and opinions, we will continue our mission. We will be able to grow and serve
even more clients."
Let a Great Place to Work®-Certified Organization Put Their Teamwork and Power to Work for You.
Society is in the age of social media, and the business-to-business relationships of supply chains and warehouses will come under the spotlight at some point. Instead of trying to choose a last-minute third-party integrator and expert in warehouse management, partner with a company that has a proven, positive reputation. Working together, the team at Veridian can streamline your operations, leveraging countless resources a comprehensive skill set of coders, developers, designers, supply chain leaders and more.
Are you interested in being part of Veridian's goals of expansion of service and dedicated support to our clients? We have the skills, talented workforce, and even the Great Place to Work® certification to prove we are the company you want to work with. Browse our current open positions and submit your application to come work at Veridian, a leading supply chain technology company and now a Great Place to Work®-Certified Organization.