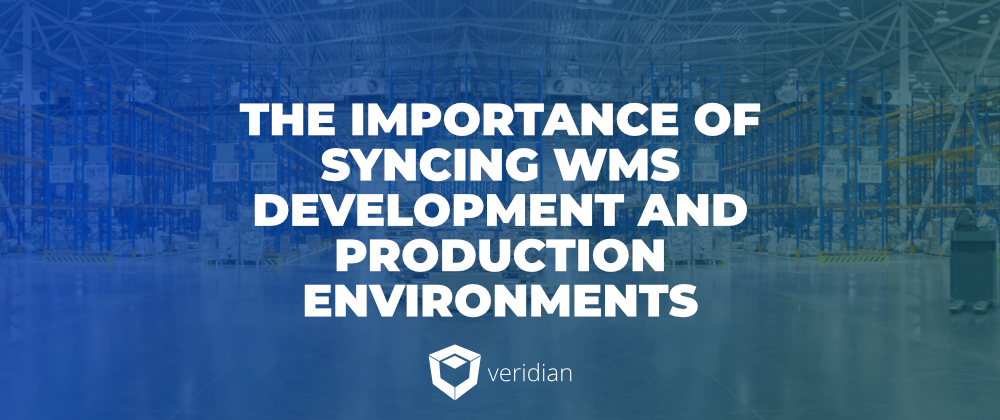 The Importance of Syncing WMS Development and Production Environments
Implementing a minor change in the WMS may not seem like a big issue, but it can dramatically affect the efficacy and productivity in the remainder of your system. A simple integration can require up to 2,000 unique tables within each system environment, and multiple environments may exist in the simplest systems. Unfortunately, this means any number of systems could lead to misalignments. Warehouse Managers need to understand a few things about the importance of syncing WMS environments and how to prevent issues from arising when systems are not in alignment.
Failure to Sync Leads to Major Problems
This could result in delays in picking and packaging, improper replenishment practices, poor visibility into inventory, higher-than-expected handling costs, angry customers, and additional, compounding effects throughout the rest of the supply chain. Even warehouses that outsource logistics can have an adverse effect on other companies.
Syncing Environments Offers Key Operational Benefits
Syncing WMS environments is the only way to ensure changes that were enacted were those that were supposed to be implemented. Although this reduces confusion between development and production environments and manage, it offers additional benefits, which include:
Better inventory accuracy.
Testing of systems and processes within a live environment.
Reduced time spent on implementing new processes through automated configuration tools.
Increased scalability of existing WMS and supply chain management solutions.
Increased accountability of process developers and those using new processes within a facility.
How to Streamline Syncing
The biggest challenge within systems that have grown out of seeing lies in understanding when this has occurred and how to bring systems back into alignment. Warehouse Managers can streamline the syncing process with these steps:
Determine how far out of sync environments have grown.
Evaluate whether changes can be made manually or automatically.
Add a testing environment for systems that lack such environments.
Develop and document change management processes to prevent syncing issues at a later time.
Adapt the testing environment to innovate processes and maintain system synchronicity with both internal and external systems, such as those of vendors and transportation providers, as much as possible.
Focus on Syncing WMS Development and Production Environments Now
Warehouse Managers have significant opportunity to expand operations and test out new processes through development environments. As the use of a WMS approaches maturity, Warehouse Managers may succumb to issues that arise when the development and production environments fall out of sync. Instead of risking system crashes and other problems, the Warehouse Manager should work to streamline syncing processes.
Veridian, a Manhattan Associates, HighJump, and JDA warehouse management system implementation company, can help you realize your supply chain success. Fill out the contact information below in order to schedule a consultation call with one of our supply chain professionals.